BMW launches US car sharing service, with i3 EV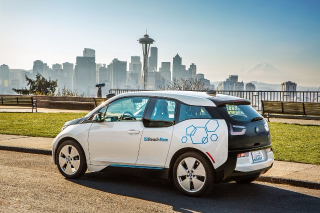 Based on the DriveNow service already available in Europe, the launch follows a successful pilot programme in Seattle, and will roll out in three US cities by the end of the year. Seattle will have a fleet of 370 vehicles – comprising the BMW i3, 3 Series and MINI Cooper.
Members can locate cars, book and extend loans, and arrange delivery and chauffeurs through a smartphone app, and a there will be a service offering pool cars for communities and groups of businesses.
Unlike many car clubs, users can leave vehicles in any legal parking space when they've finished using them, aimed at providing the same convenience as ownership. Car owners will be able to offer their own vehicles to the scheme's members, earning an income when they're not in use.
BMW Group Member of the Board Peter Schwarzenbauer, said this will eventually be offered in 10 North American cities: "Our customers rightly expect uncomplicated and fast solutions to their individual mobility needs, especially in metropolitan regions," he said. "This is why we are supplementing our classic business model with additional services that make life on the road easier for people in big cities."