Diesel-beating CO2 emissions for new Lexus RX hybrid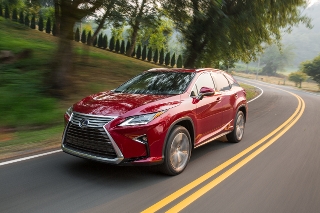 Revealed at the New York Auto Show in April, but due to be shown in European specification the Frankfurt Motor Show next week, it's the fourth generation of Lexus's best-selling car – 2.2 million have sold worldwide since 1998.
In the UK, it will be offered with a four-cylinder turbocharged petrol engine and a re-engineered petrol-electric hybrid drivetrain – there will be no diesel engine. The RX 450h now offers 308bhp and four-wheel drive, and Lexus says the chassis has been tuned to offer improved ride and handling.
Final figures have yet to be confirmed, but CO2 emissions of 120g/km put the RX ahead of diesel engines in its key rivals from Audi, BMW, Mercedes-Benz and Volvo. However, Lexus has not confirmed a plug-in hybrid as found in other large SUVs.
There will be three trim levels for the UK, comprising SE, with Luxury and F-Sport versions at the top of the range. It's likely that the headline CO2 figures will apply to SE models, which are usually on smaller wheels. All versions feature satellite navigation as standard, and pricing starts at £46,995 for the hybrid.