Fleets to lead five-fold growth in UK ULEV share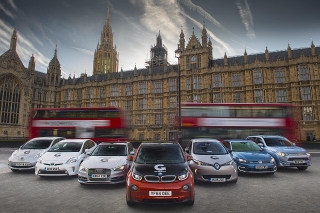 Speaking at 'The Future of Business Mobility' summit in London, hosted by Go Ultra Low, Jones said the fleet sector was already accounting for almost two thirds of the 20,992 sales during the first nine months of 2014 – a spearhead in one of Europe's fastest-growing plug-in markets, up 138.5% year on year.
By 2020, it's hoped that ultra-low emission vehicles (which emit less than 75g/km CO2) will account for 5% of UK vehicle sales – up from 1% today, and a stepping stone towards a 100% ULEV market for new cars by 2040.
To support this, Go Ultra Low has today launched a 48-page 'Fleet Guide to Plug-in Vehicles' to help businesses to make the switch, which is available online and written with contributions from ACFO and other industry stakeholders.
Jones said: "UK businesses have a crucial role to play in driving the growth of the UK's electric vehicle market; two thirds of ultra low emission cars registered in the UK this year were bought for fleet and business use. We want to make electric vehicles the natural choice for all motorists, and the faith placed in this technology by UK businesses is helping to change attitudes and boost demand."
Head of Go Ultra Low Poppy Welch said: "It is important that businesses look beyond the initial list price of the vehicle. Electric cars benefit from government grants and tax breaks and are significantly cheaper to run, all of which helps to reduce the total cost of ownership. In addition, they provide notable environmental benefits."