Long Termers: Renault ZOE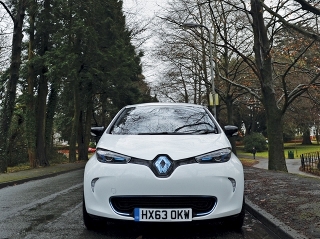 During the last five months, I've been able to travel around most of the south of the UK using the ZOE, mostly without snags. Up to around 150 miles, which is a couple of rapid charging stops, I've got used to factoring some coffee and WiFi time into the journey. It's only a four-charge trip to Liverpool and the lack of rapid chargers in Aberystwyth which have talked me out of journeys I'd have otherwise have made in the Renault.
I've also discovered there's a huge amount of public interest in electric vehicles. Most passers-by have an opinion, and I've had plenty of conversations about range and charging times which have surprised the people I've been talking to. Public knowledge seems to be lagging behind the latest models, but there's genuine consumer interest, and it's not always financially driven.
It's also been interesting to notice how my own behaviour has changed, and the features I'm making use of as the weather has changed. My landing window is within range of turning the car's cabin heaters on using the key, which is a real asset on frosty mornings and good for saving battery power. That latter point is important now that winter is nibbling at the predicted range.
But the real test will come in January, and several weeks of only using the ZOE for motorway miles again. Without the advantage of summer weather and un-misted windows, it could become an all-new conversation point while I finish my service station coffee.
Long Termers: Renault ZOE
A few thousand miles at the wheel of the ZOE have taught me that it's easy to get from A to B with a little planning, as there are strategically placed Electric Highway points along most of the motorway network. So, with one exception, I was easily within reach of the next charging point and knew I could recover a usable range back within 20 minutes.
Unfortunately, Strensham Services, at the M5/M50 junction, doesn't have charging points yet and meant all three electric vehicles had to plan a slightly longer route on day one, heading back to Gloucester before going north to Worcester for the afternoon tea stop. But, on day two, the electric vehicles got around the course in a similar time to the petrol and diesel cars.
So my challenge was maximising efficiency, just like the rest of the entrants. Deciding where I should use downhill sections to regenerate energy and where this would cost me too much momentum to be worthwhile, choosing between flowing motorways and the more direct, but hillier, back roads. 
The main difference, with energy use calculated at 13p per kilowatt-hour for the electric vehicles, all three were able to cover the same route as the conventionally-powered cars, but with half the fuel costs of the best-performing diesels. 
Having shown that it can be done, and easily too, hopefully this is a class which will continue to grow in popularity in years to come.
Long Termers: Renault ZOE
A month using the ZOE for my 157-mile drive to the Fleet World Office in St Albans from my house in Cardiff has shown just how much this has changed in a relatively short timeframe.
Some of that comes down to range. Motorways offer few opportunities for regenerative braking, and it's the least efficient way to use an EV. Even so, the ZOE easily covers 75-80 miles at 70mph, and it's possible to run ancillaries like the infotainment system, lights and ventilation without denting that significantly.
But range anxiety is a bit of a red herring, because it's charging infrastructure which makes the real difference. The M4 is part of Ecotricity's Electric Highway and the ZOE can rapid charge, for free, at most service stations, at around 12 times the speed of my home wallbox. That's around 1% of capacity per 20 seconds until it reaches 80%, after which it halves to a speed that's still three times faster than most public units, and many other EVs, can manage.
These are so quick that it's actually easier for me to factor in two stops of less than 25 minutes, each time leaving with 85%, than it would be to stretch the range and stop once at Membury for a full charge. Significantly so – two stops saves about 20 minutes, and makes the journey more relaxing too.
Stopping to charge every 60 miles or so doesn't make the ZOE an ideal motorway workhorse, but it's another reason why semi-regular long distance drivers no longer need to dismiss an electric vehicle as a suitable method of transport. They'd be surprised how quickly that range anxiety disappears.
Long Termers: Renault ZOE
Behind rising sales, the technology is becoming increasingly useful. Our Renault ZOE features a rapid charger and the new European Type 2/Mennekes connection. It means we can stop and top up to 80% in less than half an hour at most motorway service stations, and it'll also take the maximum charging speed at whichever public units we find.
With that in mind, the plan is to push it beyond its comfort zone, to see how it functions not only in the urban environment where electric vehicles are often deemed to be best suited, but to try and take it on longer journeys too. In essence, the plan is to use it like a normal supermini – mostly in town, but with the ability to go further when needed.
It comes well equipped. On top of the basic Expression model, which gets R-Link with TomTom satellite navigation, our Dynamique Intens version gets a scent diffuser and air ioniser in the cabin, which is accented in white rather than the greys, blacks and blues of the identically priced sporty Dynamique Intens version. More importantly, it features 16-inch wheels rather than 17s on the Intens, which should help maximise the range.
Early impressions are positive. Back to back with our old Clio, the ZOE feels very familiar, albeit with a much brighter cabin and higher seating position – on top of the battery. Boot space is generous, the R-Link infotainment system is excellent and it takes around seven hours to charge on my wallbox. It will be interesting to see how it copes with the commute down the M4.