Mitsubishi hints at compact plug-in hybrid crossover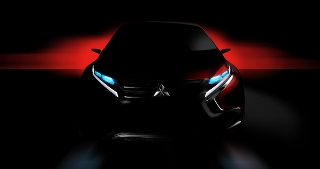 The carmaker has so far only released teaser images, which indicate it could be a closer-to-production development of the XR-PHEV concept car shown at the Tokyo Motor Show two years ago and could preview the next ASX or a smaller model which would enable it to compete with the Nissan Juke.
While the Outlander PHEV features a plug-in hybrid system with an electric motor at each axle, this shows the manufacturer is working on a version which will do without electric all-wheel drive. The XR-PHEV had been powered by a 1.1-litre turbocharged petrol engine, though it's unclear whether that's been carried forward.
However, the images show Mitsubishi is progressing with the aggressive new front end treatment of the previous concept car, which other motor show reveals have indicated will likely be rolled out on the Outlander (Outlander PHEV Concept S) and next-generation L200 pickup (GR-HEV concept).