Nissan to power French office with world's largest grid-integrated EV system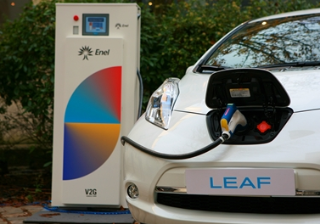 The carmaker is deploying 100 vehicle-to-grid chargers from partner ENEL that will be used by its EVs to draw down energy from the grid at off-peak periods with the ability to 'sell back' the stored energy to the grid. As a result, the technology is expected to slash energy costs at the new office and decrease the amount of contracted power consumed from the local electricity supplier.
Said to be the largest grid-integrated electric vehicle (EV) system and second life battery storage unit ever installed in a building in the world, the unit will also feature a 1 MWh energy storage system from battery storage experts EATON, powered by 64 Nissan LEAF second life EV batteries combined with solar energy generation.
As well showcasing sustainable and efficient solutions for the future, the technology also demonstrates Nissan's vision of how cars in the future can be connected to social infrastructure such as road, information and electric power networks.
The company also hopes to roll out the technology to other major Nissan sites and facilities around the world over the next few years and said it's a "game-changer in the way people and businesses utilise electric vehicle fleets'.
Paul Willcox, chairman, Nissan Europe, added: "By demonstrating that electric vehicles can play an integral part in the energy management systems of the future, this project is a watershed moment on our journey towards a fully electric future."