Z-Tech's first EVs to help London rapid charger rollout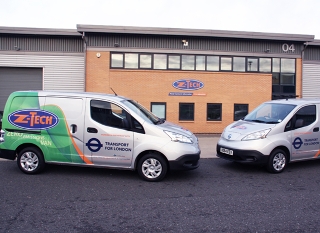 The Nissan e-NV200 vans will be used to serve its Transport for London contract, maintaining pumping systems for the London Underground, and follow a fleet review by the Energy Saving Trust using Route Monkey optimisation software.
To help support further electric vehicle uptake, Z-Tech has installed charging points at its London and Cambridge offices and will be a participant in the EST's Rapid Chargepoint Mapping project. Data from the vans' usage will help inform the rollout of rapid charging hubs across London, in turn enabling fleets to double their electric vehicles' duty cycles.
Michael Swinhoe, Z-Tech's Managing Director said: 'We are early adopters of this technology, but having driven these vans, they offer a viable alternative to the combustion engine, particularly within central London.
'The Mayor of London's support for the charging infrastructure has really helped in my decision, along with organisations such as the Energy Saving Trust, who we have worked closely with us, offering Fleet Reviews and a great source of EV information.'