Strategic support vital for UK all-electric sales goals, says Ford
The Government must support close co-operation with stakeholders and provide infrastructure and incentives if it is to end the sale of combustion-engined vehicles in the early 2030s, according to Ford of Europe president Stuart Rowley.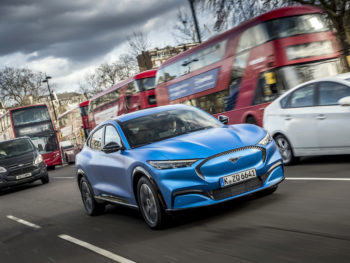 Speaking at the launch of the Mustang Mach-E electric SUV in London, Rowley said Ford views the proposed sales ban as a potential catalyst for investment, but added that incentives are vital and barriers to adoption need to be removed – citing the need for "tens of thousands" of charging points and wider stakeholder collaboration to meet that goal.
Ford also sees proposed company car tax reforms for April, which if finalised would re-introduce low bands for vehicles emitting less than 50g/km CO2 and a 0% band for cars with a battery range of more than 130 miles, as a useful stimulus for fleets to adopt the Mustang Mach-E and Kuga plug-in hybrid.
Rowley said such incentives further the "momentum" of an already accelerating market: "[Tax reform is] just a nudge for consumers. We understand that the Government can't afford to spend tonnes and tonnes of money, but they can nudge people in the right direction. That would certainly help, and we definitely welcome it."
Deliveries of the Mustang Mach-E will begin late this year, available with a choice of two battery packs, the larger of which offers a WLTP-tested range of up to 370 miles, and rear or four-wheel drive. An indicated price range of between £40,000 and £55,000 will put it up against equivalent versions of the Tesla Model 3 – which JATO Dynamics figures show was Europe's third most registered vehicle in December 2019, only beaten by the Volkswagen Golf and Renault Clio.
Rowley said Ford's national and European fleet teams are already working with suppliers and customers, both of whom are showing an interest in the car.
"I think [fleets] will be a big mix of the sales," he said. "At the price point this car is, many people have this sort of vehicle as a company car. We started with the online purchase [for retail customers] but very quickly the fleet management companies and individual fleets came to us and said people in our organisation would like this.
"The [petrol] Mustang is a mainstream vehicle, especially in the US. We don't see [the Mach-E] as a niche thing. It's not high volume like a Fiesta, but it's going to be an accessible vehicle."