Aston Martin signs MoU to develop 2018 EV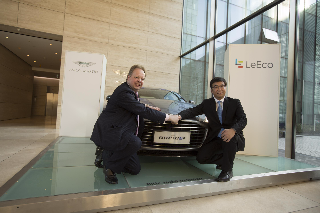 The carmaker will work with Chinese technology company LeEco to launch a production version of the RapidE concept car, shown in October, and this includes adopting components from new US-based EV startup Faraday Future.  
This will enable Aston Martin to offer a rival for the Tesla Model S, as well as Porsche's widely-rumoured electric sedan which was greenlighted for a pre-2020 launch date. All three are likely to offer high performance and an electric range of over 300 miles.
Aston Martin CEO, Dr Andy Palmer, said: "We have been encouraged by the project speed and technical depth shown by Letv in the development of the RapidE concept towards full production. Bringing the RapidE to market by 2018 is an important milestone for both companies."
Mr. Ding Lei, co-founder and global vice chairman of SEE Plan, added: "LeEco's SEE Plan is dedicated to build electric, smart, connected and socialized cars. We have been targeting the highest standard in the auto industry in terms of design, R&D and manufacturing of our electric cars. We hope that, by strengthening collaborations with Aston Martin, our future models will provide premium qualities and delicate arts and crafts as good as those of Aston Martin."