EV startup claims 370-mile range for its sports car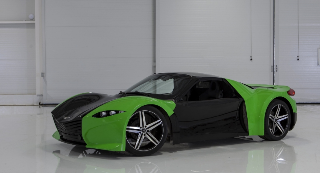 The company, which has received $5m of indicated interest in its shares during a "testing-the-water" crowdfunding campaign, plans to begin production next year with its sights set on the niche sports car sector rather than high-volume parts of the market targeted by big manufacturers.
Indicative pricing for the Tomahawk has not been released yet, but Dubuc says this will accelerate to 60mph in around three seconds from rest and offer a range of 370 miles to a charge – longer than the Tesla Model S. It also offers space for four adults.
Mike Kakogiannakis, the company's CEO, said: "We want to be unequivocally the reference in the electric sports car market. We strive to push the limits and intend to offer the ultimate of what is possible. This announcement today highlights our commitment to bringing an unsurpassed level of engineering and we believe demonstrates our ability to progress quickly within our space."
For more of the latest industry news, click here.