FedEx Express Japan deploys two electric vans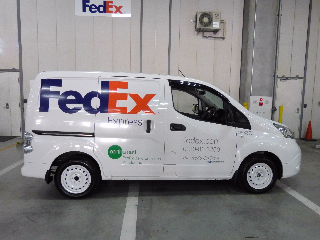 Based out of Shinsuna station, which now has a charging point for the two vehicles, the vans join a global fleet which includes 397 hybrids, 404 electric and 40 hydrogen-fuelled vehicles, as well as 132 natural gas fuelled models. Of these, seven hybrids and nine natural gas vehicles are based in Japan.
The company is aiming to reduce its fleet fuel consumption by 30% by 2020, compared to a 2005 baseline, and reached 29.5% as of 2014. FedEx Express says it will revisit that goal once it reaches it.
Masamichi Ujiie, regional vice president, North Pacific, said: "With more than 190 countries recently signing the COP21 Paris Agreement to establish an international framework for decreasing fossil fuel dependency worldwide, global awareness of environmental and global warming issues is increasing.
"As a company conducting business worldwide, FedEx is committed to addressing environmental issues through such environmental measures as the introduction of zero-emission all-electric vehicles."