Road Test: Range Rover Sport Hybrid Autobiography
There's a display in the Range Rover Sport Hybrid which shows how much of the journey has taken place with the engine switched off. A useful feature in a car where the engine is so quiet, and the drivetrain so smooth switching between its two power sources that – save for a chirp from the starter – it's almost impossible to tell otherwise.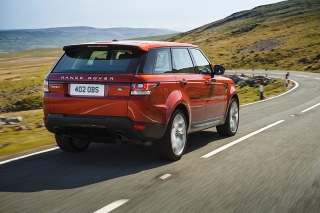 While downsized engines and weight reduction have a role to play in this sector, hybrid technology is becoming an inevitable need. But it's usually accompanied by a charging port – by the end of this year, Audi, BMW, Mercedes-Benz, Porsche and Volvo will all have large SUVs with a plug-in hybrid drivetrain. So has Range Rover missed a trick here?
That depends on how it's used. This has the same 3.0-litre V6 diesel engine as the SDV6, augmented by a 47bhp electric motor capable of driving the car for around a mile. While this means it can't match the ultra-low CO2 emissions of the plug-ins, it's also not reliant on a large petrol engine when the battery is flat. So, for long-distance drivers, this makes far more sense than a petrol-electric plug-in hybrid.
Not that cost is a huge consideration at this end of the market. The Hybrid is limited to the top-spec Autobiography trim, and costs £6,400 more than the equivalent SDV6. However, the electric motor brings power in line with the 4.4-litre SDV8 diesel, and it's this larger engine that Land Rover has price-matched. The advantage for business users is, the hybrid's 44.1mpg is 6.4mpg better than the SDV6 and a full 11.6mpg better than the SDV8. Spec for spec, it's a no-brainer.
Especially as it's so clever with the way it uses the power. The electric motor seamlessly assists the diesel engine on steep inclines and under heavier throttle inputs, but also enables it to glide silently on electric power for short distances. In town, where air quality issues matter the most, the engine can lie dormant for 35-40% of the journey – even higher when the traffic is gridlocked.
That figure drops significantly on the motorway, but it's still possible to glide along on downhill stretches provided no throttle inputs are required. Fuel economy is impressive for this size of car, settling in the low 30s for urban routes and easily getting up to 37mpg on the motorway. All without the hassle of plugging in to make the most of it, or making any adjustments to driving style.
It's a great fit for a car this luxurious. Land Rover is generous with standard equipment, and Autobiography versions leave you wanting nothing. Swathes of soft leather, suede and accents of machined aluminium are enjoyed from a commanding driving position with excellent visibility and sublime long-distance comfort. The Range Rover Sport offers a feeling of genuine luxury that's somehow different from the German brands.
The downside is that taxation is weighted towards CO2 emissions on the test cycle rather than real-world use. It's hardly a dealbreaker, given the target audience and the combination of performance, luxury and economy on offer, but on paper it unfairly disadvantages the Range Rover against premium-class plug-in hybrids, even if they're rarely plugged in.
So Land Rover is competing in an increasingly crowded part-electric luxury SUV sector with this car, and previous prototypes suggest there's likely to be a plug-in version on the way. But for drivers seeking a versatile and luxurious performance long-distance car which won't over-burden on running costs, this is a great choice.
Verdict:
As easy to live with as any other Range Rover Sport, and not bound by short distances to offer the best fuel economy, the hybrid makes a great case for itself. But a wider choice of trim levels and a lower entry price would help more drivers to realise this.
Specification:
Sector: SUV
Type: Diesel-electric hybrid
Price: £82,650
Fuel: 44.1mpg
Electric range:
CO2 (tailpipe): 169g/km
Charging port: N/A