Twizy re-launches Renault sales in Canada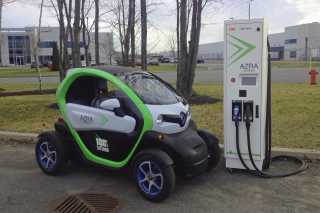 Certified by Transport Canada as a Low Speed Vehicle, the Twizy 40 – which has a 40km/h (25mph) top speed – will be available through importer AZRA Canada within months, following provincial authorisation which is now underway.
Pricing has not been revealed yet, but an announcement will be made on the 15th of April, connected to an "important investment" by AZRA, the company said. Canadian-market versions are compatible with a Type-1 charging cable, instead of featuring a captive lead with a domestic plug as used in Europe, and feature side reflectors to comply with local rules.
Renault has not sold cars in North America since selling its stake in the American Motors Corporation in 1988. The