Volkswagen previews modular EV platform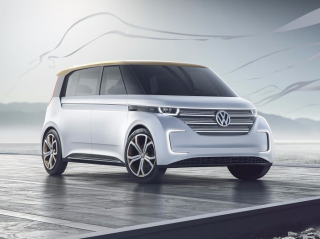 Unveiled at the Consumer Electronics Show in Las Vegas, the BUDD-e is an MPV which is slightly larger than the Touran, and designed to show the potential of the Group's Modular Electric Drive Kit (MEB) which will standardise components across different models and make the technology more affordable to roll out.
The concept's 92.4kWh battery is larger than the packs fitted to the longest-range Tesla Model S, and packaged underneath most of the cabin floor, driving an electric motor at each axle. In turn, that's enabled Volkswagen to develop a more space-optimised interior, because there's no need to find room for bulky fuel tanks and a petrol or diesel engine.
Recent Audi and Porsche electric vehicle concepts have hinted at a 150kW charging system, three times higher than today's DC rapid chargers, and the BUDD-e appears to use the same technology. Volkswagen says 80% of its 330-mile range can be restored in half an hour, but added that it could be as quick as 15 minutes by the end of the decade.
The BUDD-e also shows a number of new connected technologies, such as controlling domestic heating and lighting systems or camera-based intercoms through its infotainment system, and software which can remind drivers if they've left important items at home.